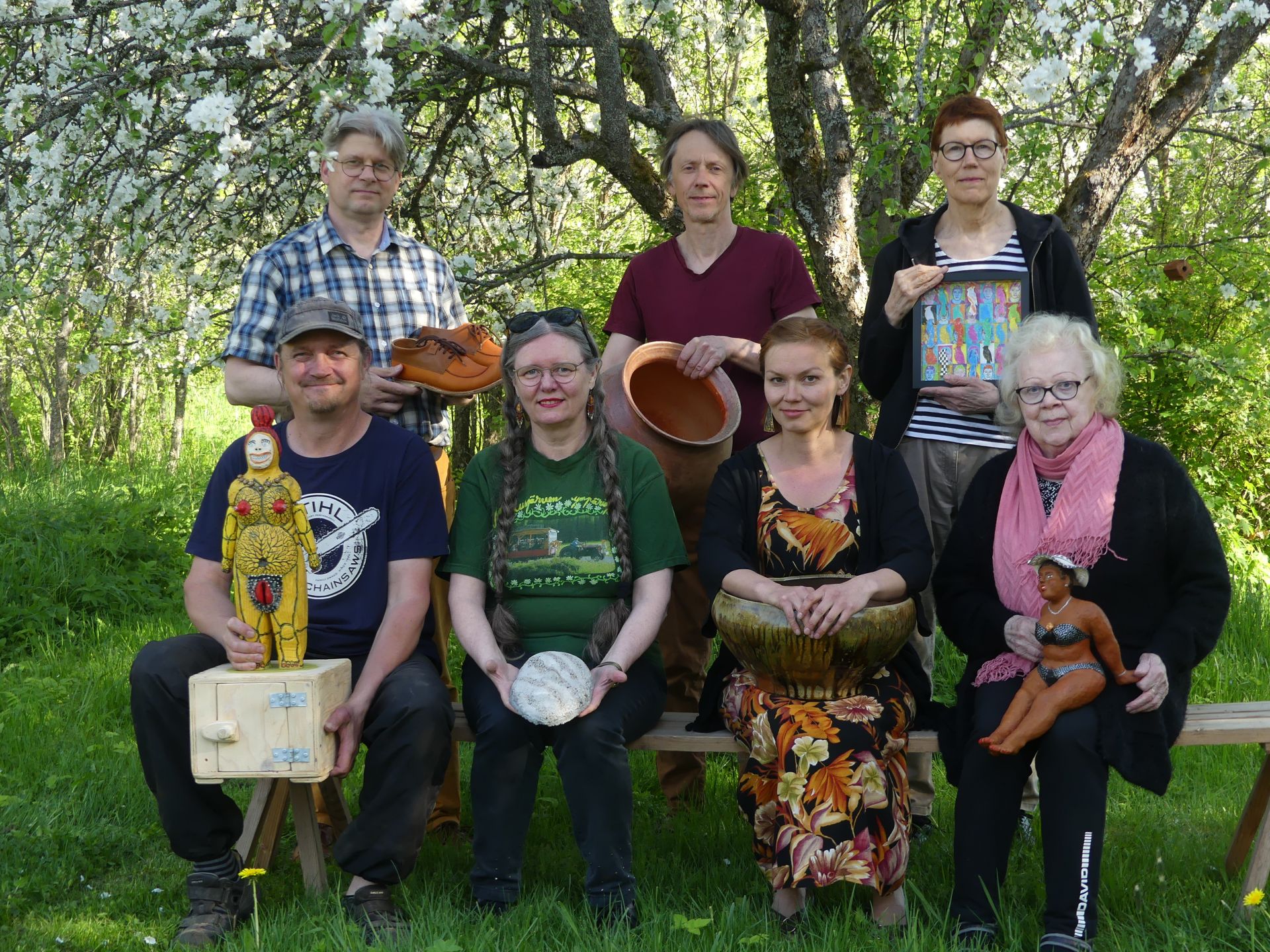 Mallusjoki Art Collective
Mallusjoki, Orimattila
Beautiful nature, vibrant countryside and a rich cultural life have in recent decades attracted new residents to Mallusjoku. In addition to those who participate in Konstrundan, there are active musicians, theater workers and writers in the area.

Over the years, some joint exhibitions have been held with the artists in Orimattila and many events are organized throughout the year. "During ongoing projects, we have more contact with each other", says Virpi Kanto, "and sometimes we have parties and make new plans." The next joint exhibition is planned for the summer of 2021 in the art museum in Orimattila.

This year, seven local talents are participating in Konstrundan, so Mallasjoki is definitely worth a visit! The range includes both crafts and art as well as a dose of eye candy and a good sense of humour.

Aba Luostarinen and Jari Vesterinen have founded Lasi- ja keramiikkakeskus Kuu. Aba also creates glass work and both work with ceramics that are burned in the unique wood-fired anagama kiln. Visitors can get acquainted with both the manufacturing process and the end result.

Virpi Kanto and Tapani Kokko are both sculptors, Virpi casts in concrete and Tapani carves in wood. Colourful wooden sculptures and meditative concrete sculptures can be admired in two studios and in the sculpture park.

Sirpa Pahla makes ceramics, Tytti Götsch works mainly with watercolour and mixed media and Harri Karttunen makes handmade Runojalka shoes in his workshop. Due to the corona, both Sirkka and Tytti exhibit their work in an exhibition space in Harris' courtyard.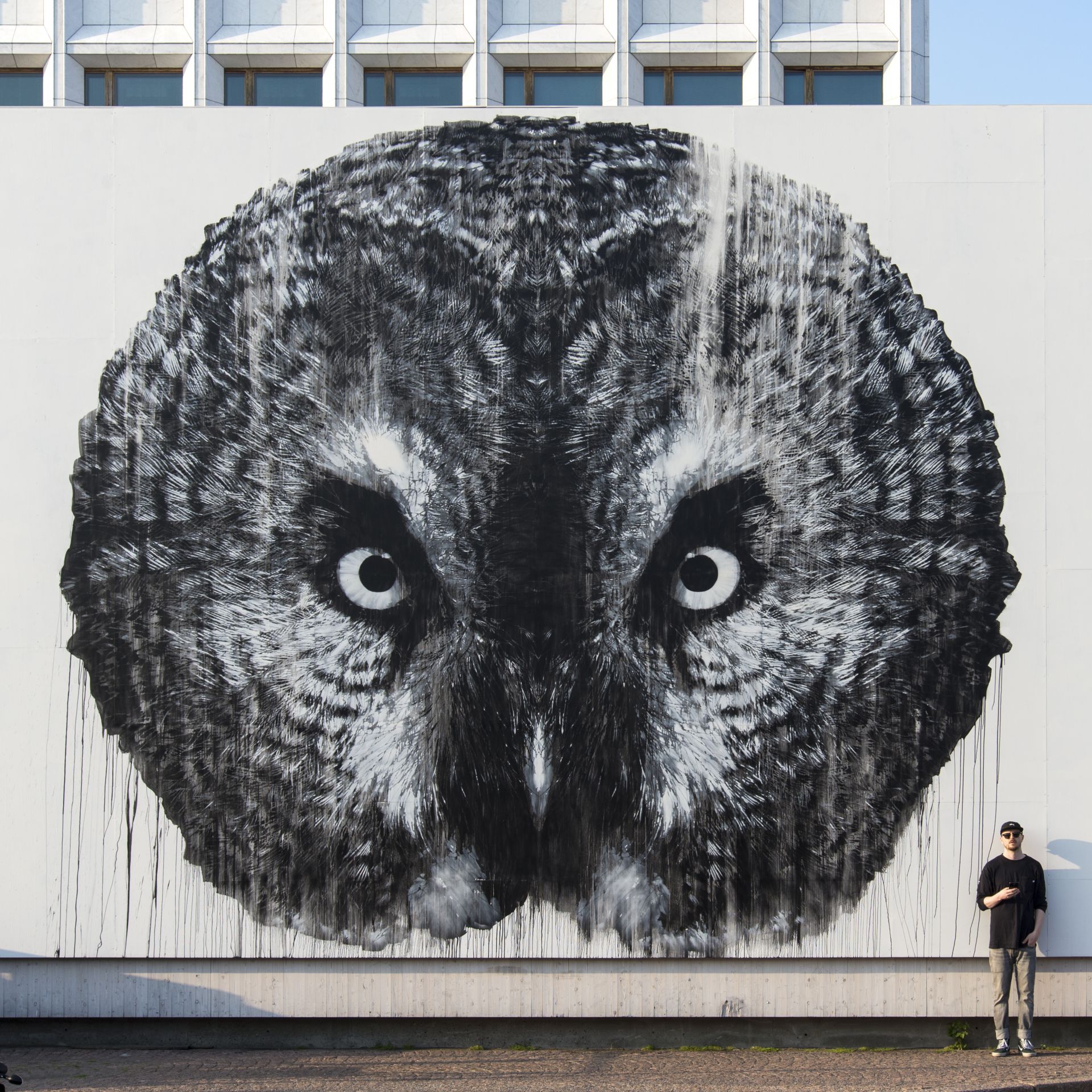 Jussi TwoSeven
Helsinki
Jussi TwoSeven's background is not the most conventional. He has a M.Sc in engineering, but has worked as an artist since his graduation. He went to art school as a child and in the late 90s he found his own style through street- and graffiti art. Even though TwoSeven is making art for gallery walls these days, he has not abandoned street art completely. "Street art can not be owned and for me it feels natural to create both for the street as well as paintings on canvas for gallery walls" he says.
Despite the fact that the most famous works by TwoSeven are large murals outside the world of art galleries, the actual painting of the work is the shortest part of the creative process - most of his work happens in the studio. TwoSeven's works are based on photographs he has taken of urban landscapes and taxidermied animals and based on these photographs he creates stencils for his works. The stencils are cut with a laser cutter.
The urban landscape and Finnish animals has been the theme of TwoSeven's work the last few years. Behind is a worry about the state of nature. When looking at his work one can ponder why an owl is looking at us in the middle of a concrete jungle or why a fox is skipping on the side of HSY's garbage lorries.
TwoSeven's solo show at the Kimmo Pyykkö Art Museum in Kangasala will end a few weeks before Konstrundan, so there will be a lot of works on show in his studio. There you can also familiarise yourself with his work methods and the stencils and tools he is using. In the autumn TwoSeven will show his work at The Hunting Museum of Finland and in the end of the summer he's going to Sweden to paint a new mural.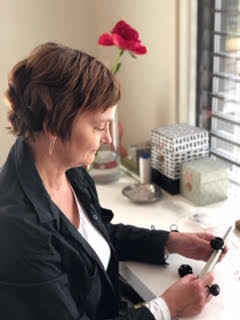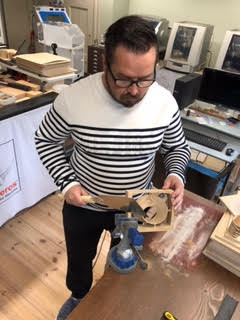 Kirsti Doukas & Kristian Saarikorpi
Fiskars Village
The collaboration between Kirsti Doukas and Kristian Saarikorpi is based on their areas of expertise and specialty, which complement each other. Kirsti enjoys developing concepts and forms, while Kristian loves to solve problems using different manufacturing methods. The couple makes little difference between work and leisure and they share household work.

Kristian ended up in the industry by chance. The dream job was a gunsmith, but eventually he became a jeweler. Kristian is a pioneer in 3D modeling-based
technology in Finland. In the jewelery industry, Kristian is known for his unique engagement and wedding rings, as well as being a master jeweler who manages even the most demanding techniques.
Kirsti already knew in high school that she wanted to become a designer. She worked as a jewelry designer at Kalevala Koru for many years. For the past four years, she has been involved in trying to keep formal jewelry education in Finland. Resources have been withdrawn and the most recent setback was the closing of jewelry design education at Lahden Muotoiluinstituutti.

Both are active on the board of the Onoma cooperative. Together they also work with their own company Saarikorpi Design Ab, where they create collections for various brands, such as Kalevala Koru and Lumoava. At the moment, the couple is taking part in the Onoma summer exhibition Meadow.
During Konstrundan, they look forward to welcoming visitors interested in design and jewelery to Fiskars' old barn.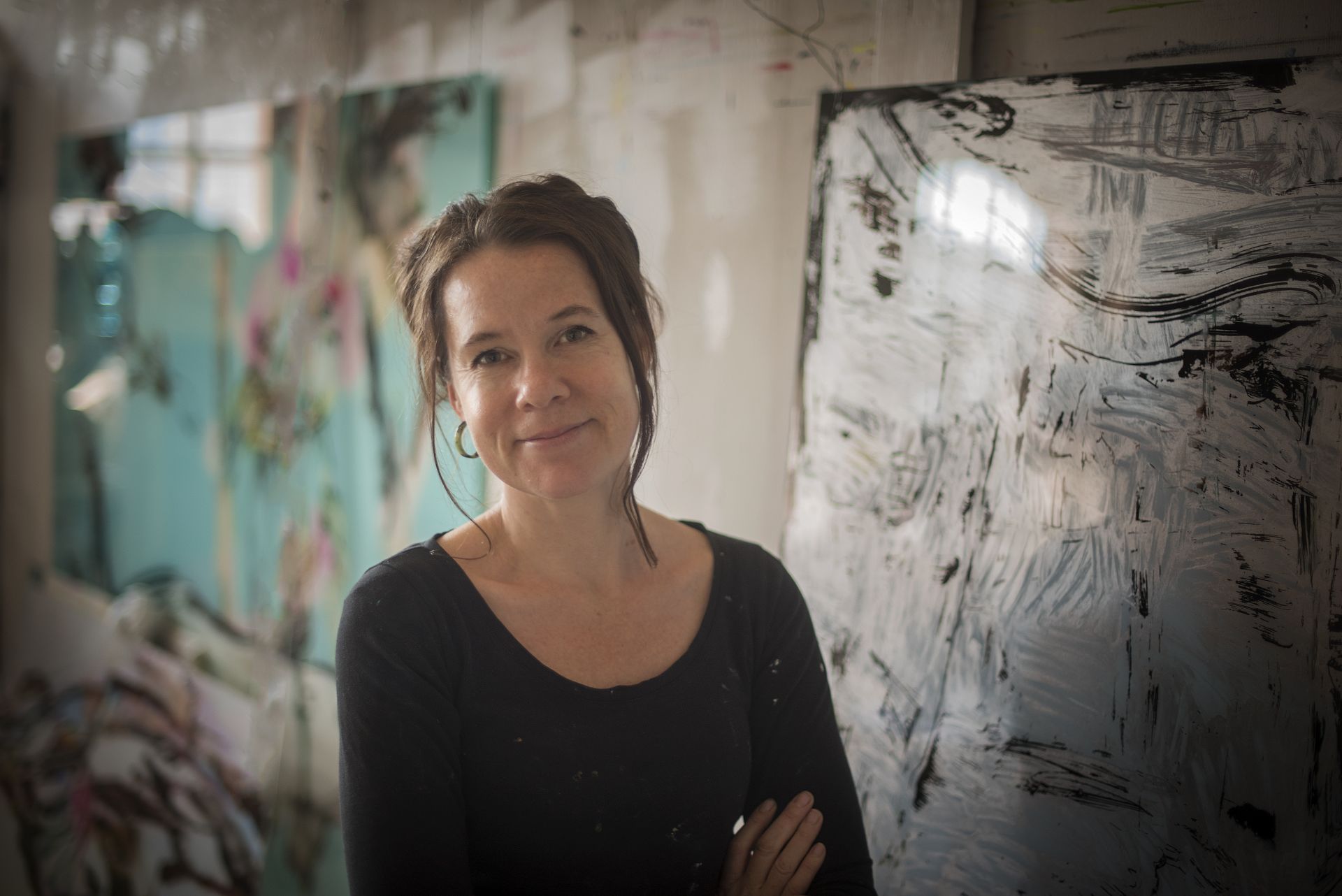 Elina Ruohonen
Turku
Elina Ruohonen's colourful paintings describe climate change, the sea, nature and the future. She paints with oil paints on the back of plexiglass. Her inverted painting technique means that what is painted first actually becomes the front of the work. The room and the viewer becomes part of the painting through the reflections captured in the plexiglass.

When Elina graduated from art school in Kankaanpää in 1995, she wanted to find a material that suited her. She was working at the Museum of Modern Art in Tampere in 1997, when the museum received the estate of a deceased artist. "I cleaned frames around pastel drawings and sprayed window polish on the glass to clean stuck pigment from the pastel color. It fascinated me how the paint moved on the surface", says Elina.

This is how Elina describes her way of working: "Painting is really always a choice. What should be included, what should be left out, what should be removed? My painting often involves removing and sometimes I erase everything. An empty base offers new opportunities."

Elina belongs to the artist group Merisiskot, which creates ecological art, often related to the Baltic Sea. Working in a group is a nice counterweight to working independently as an artist. Elina is currently painting for three exhibitions, all of which will be opening in early September. Elina participates in group exhibitions in both Keravan taidemuseo and Seinäjoen taidehalli, but in the open-air gallery Turun Aura she exhibits alone. After all the work with these exhibitions, it will be nice to meet new people during Konstrundan.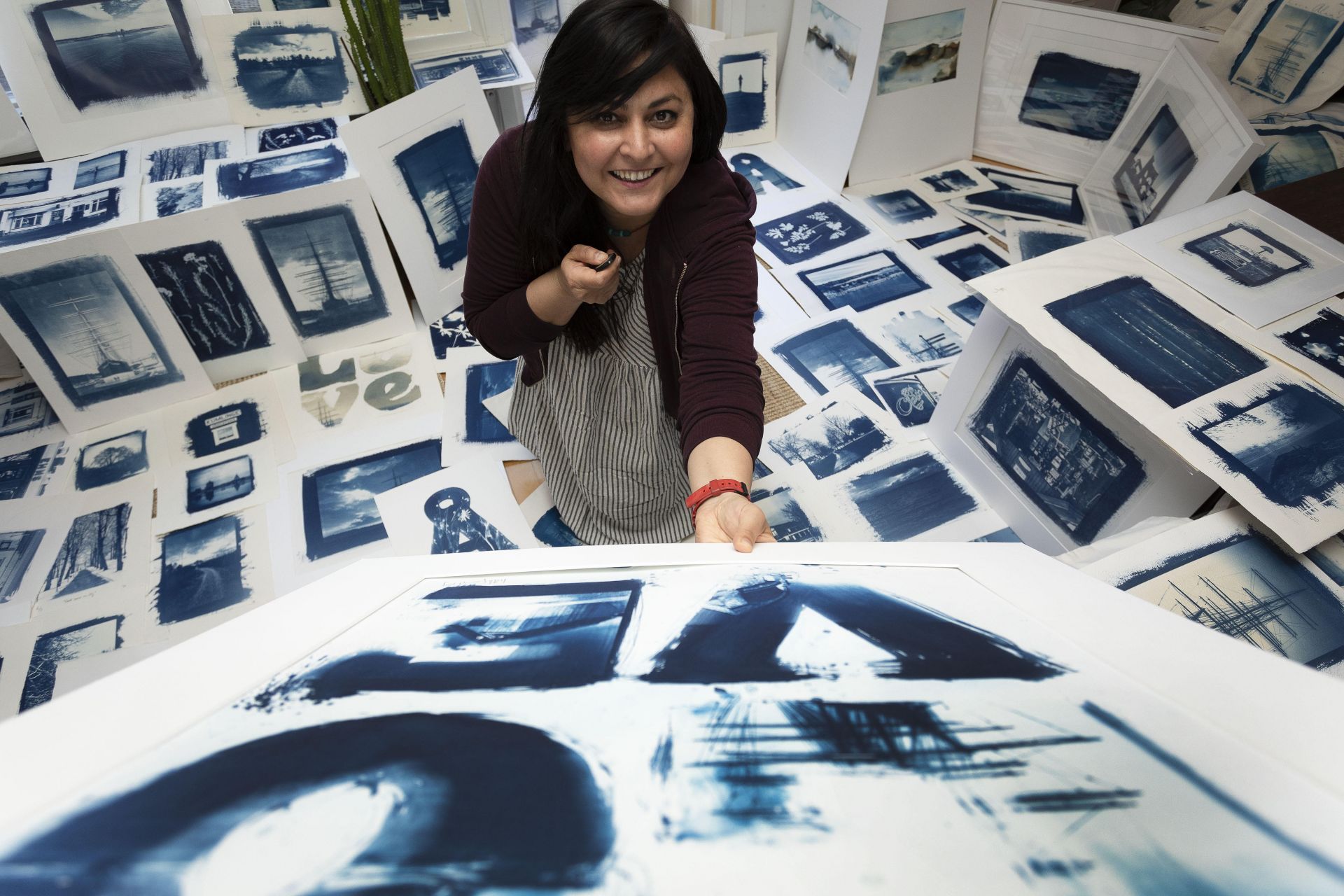 Hülya Tokur-Ehres
Mariehamn
Hülya Tokur-Ehres smiles and says; I found love and moved to Åland. That a photographer from the city of Istanbul, with an American master's degree in Fine Art Photography, who worked as an assistant to a film director in Texas, would end up on Åland was quite unpredictable.

However, there was never any doubt that it was art Hülya would pursue. Raised in an artistic family and with access to her father's darkroom, photography was a natural part of her upbringing.

Hülya also paints with watercolors. An exciting way to combine photography and painting is with the technique cyanotype. The end result can best be described as photographic painting printed on watercolor paper. This is what Hülya has been doing in recent years. Her next project is a meeting between cyanotype and design, in collaboration with her siblings in Istanbul. "It is important to explore new techniques and forms of expression," says Hülya.

Hülya is driven by a positive curiosity, and she sees it as a reason why it has been easy for her to move between countries, languages ​​and cultures. With her camera, Hülya wants to capture places people enjoy and relax. Right now she is particuarily interested in what makes people happy and peaceful.

"My work process is a part of me. It is incredibly important that art reflects society, and my art would probably have looked different if I had lived in Istanbul today," says Hülya. Hülya is looking forward to opening her studio for Konstrundan and welcomes visitors of all ages "from 2 to 102 years".

Jussi Goman
Väittäjä3, Riihimäki
Jussi Goman is a visual artist from Riihimäki, known for his colourful paintings. His playful still lifes are like Matisse updated to the 21st century. In painting, Goman is fascinated by change and finding something new. "I paint with acrylic on canvas. This gives a clear framework, but makes everything possible within it" he says.
Goman often works with loosely serial work. He does not sketch, but uses the same elements and parts of paintings in several works. Like this he can perceive the painting to a certain point in his mind. The final result is still a surprise and that's what keeps his work interesting.
In his works, Goman is often using three-dimensional elements. In his last solo show, it was as if his paintings had come to life in the form of ceramic sculptures. He says he had already for a long time wanted to create three-dimensional work. Ceramics came into the picture when he moved his studio to a property where a ceramicist moved in as well.
This studio is located in Välittäjä3, a creative studio community run by Ars Häme ry. In the building a ceramicist, glass artist, several visual artists and art- and cultural historians are working. "Generally everyone is doing their own thing in their own space. I think creating art requires a certain loneliness, but still it's nice that if you feel like it you can speak to someone and exchange ideas with colleagues" says Goman. At the moment he's creating new work for his upcoming solo show in Sweden next year.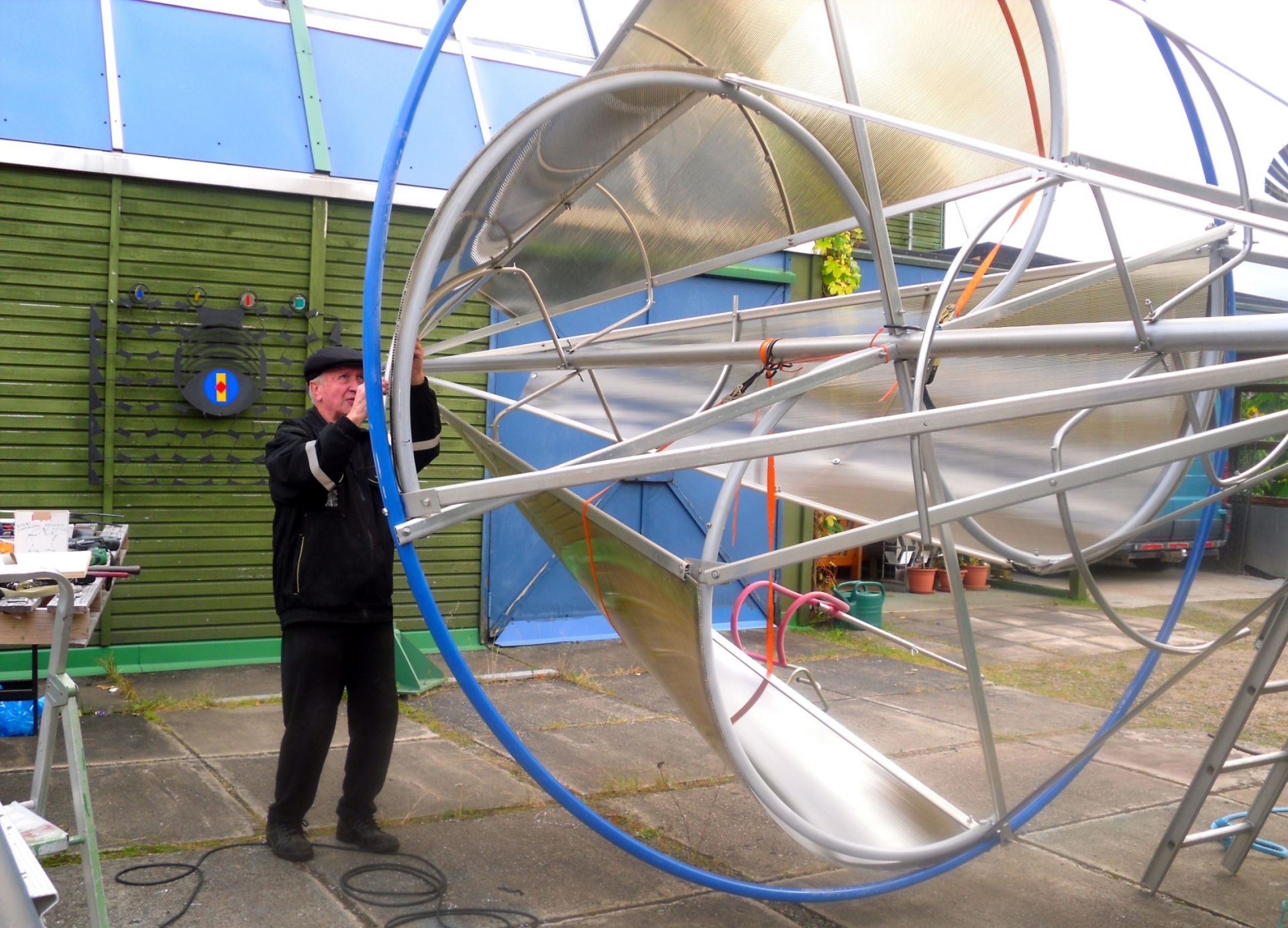 Antti Maasalo
Alajärvi, Lehtimäki
Antti Maasalo has had an interest in art and construction since he was a child, when he often helped in his uncle's smithy. Although the work was sometimes heavy and tedious, this was where Antti's curiosity for creation was woken. Antti studied to be a primary school teacher, specialized and then worked as a visual arts teacher until 1989. "It has been gratifying to see how visual arts teaching has become increasingly diverse and liberated. New technologies have been added to the picture and the teachers have bravely used them", says Antti.

In Ostrobothnia, many people at first marveled at Antti's kinetic sculptures, but today his work arouses great appreciation and Antti has received several official recognitions for his work. During 50 years he has held many private exhibitions and participated in countless exhibitions, both in Finland and abroad. Various projects, positions of trust and membership have over the years given him new perspectives and valuable contacts.

The computer became a natural work tool as early as the 1980s, as it is easy to process the moving parts of the sculptures on the screen. Since 2002, Antti has presented his work via the internet, both exhibitions and streams from the studio.

During Konstrundan, you can also visit his studio online. Work is currently underway to found a sculpture park, and at the end of the year, Antti's 80th birthday will be celebrated with a jubilee exhibition in Helsinki. "Interesting work has no age limit. Age is just numbers. When you get to do what you like most, you stay alert and agile", says Antti.