Konstrundan 2022 illustration!
The illustration for Konstrundan 2022 is made by the illustrator, visual artist and designer Jenni Tuominen. Jenni (b. 1976) is living and working in Porvoo. She works widely within the field of illustration, visual arts and design. In 2017 Jenni was awarded with the State Prize for Illustrations. She has designed prints for Marimekko since 2006, when her print Unessa won a design competition organized by Marimekko.
Her inspiration Jenni gets from the Finnish nature and her ceramics are sold in boutiques all the way in Japan and Hong Kong. She has the design studio Studio Jenni&Jukka together with her husband, the illustrator-graphic designer Jukka Pylväs. They write and illustrate a series of books called Jengi. Their award-winning celebratory stamp 'Together' was published in the spring of 2022. Jenni and Jukka's illustration can also be seen on the streets of Porvoo, on the sides of the new library bus.

Jenni has a degree in graphic design from the University of Art and Design Helsinki and a degree in visual arts, with a major in printmaking, from the Turku Arts Academy. You can see more of Jenni's production at www.jennituominen.com.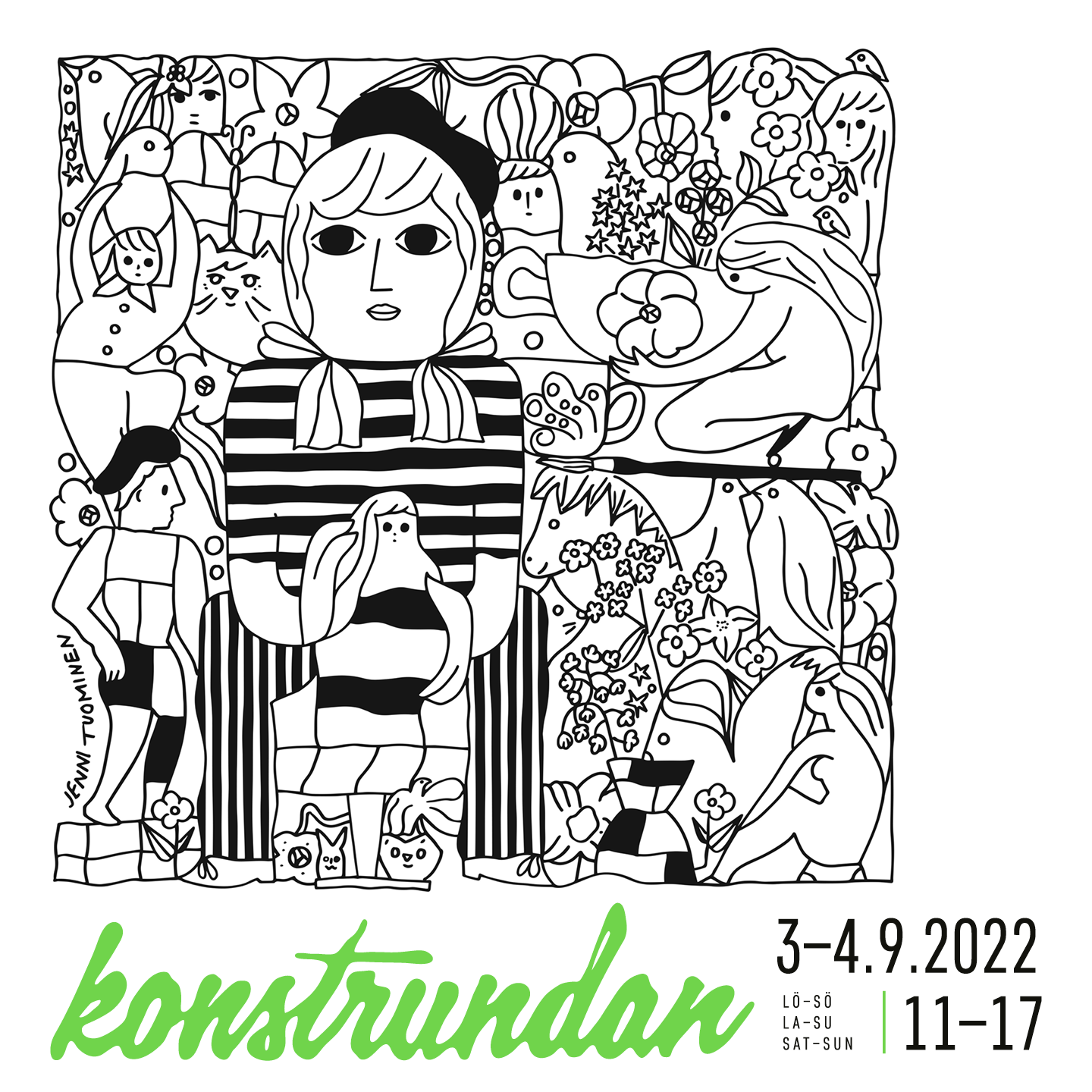 Jenni's comment about the Konstrundan 2022 illustration:
'I was delighted when I was asked to do the illustration for Konstrundan 2022. I immediately thought it could be a black and white drawing, constructed from many elements and forming a surface-like pattern that can be coloured in. Konstrundan's diverse artists and artisans and the fields of art they represent were chosen as the theme of the illustration. I hope that my illustration delights and arouses interest to participate in the event in great numbers.'

THE APPLICATION IS OPEN UNTIL 20.2.2022!
Now it is time for professional artists, artisans and designers to submit their applications to
Konstrundan 2022. The application period is 20.1–20.2.2022. The application form and more information is available here.
Please share information about Konstrundan to creative artists in your networks!
The fifteenth Konstrundan in Finland will be held during the first weekend in September, Sat-
Sun 3–4.9. Participating creative artists will open their workrooms and studios to the public.
The aim of Konstrundan is to increase awareness of domestic contemporary art, arts, crafts and design. As a participant, you benefit from national visibility, new contacts, and an opportunity for direct sales and, above all, Konstrundan generates many meetings with
people interested in art.
Contact and more information
We have divided Finland into eight regions and each region has its own contact person, who
is happy to answer any questions regarding this year's event.
Projectmanager and contact for Turku region, Satakunta, Pirkanmaa and Central Finland Martina Lindberg, 044 9770 773, konstrundan.aboland@gmail.com
Secretary and contact for Kymenlaakso, South Carelia and Eastern FinlandVeronica Svenskberg, konstrundan.info@gmail.com
Eastern Uusimaa and Päijät-HämeLeena Stolzmann, konstrundan.ostranyland@gmail.com
Helsinki region Ida Taavitsainen, konstrundan.helsingfors@gmail.com
Western Uusimaa and Kanta-Häme Jani A. Purhonen, konstrundan.vastranyland@gmail.com
The Åland Islands Leila Cromwell-Morgan Lönnroth, konstrundan.aland@gmail.com
Ostrobothnia Nicole Hjelt, konstrundan.osterbotten@gmail.com
Northern Finland Ami Avellán, konstrundan.norrafinland@gmail.com
Press release 9.2.2022