The multi-talent works with textile art, ceramics and glass. Besides that, Hanna-Kaisa is also a researcher and lecturer at the Aalto university's Department of Design.
-Originally I graduated with a BA in photography from Turku University of Applied Sciences and after that I ended up in the fashion industry in Paris and Brussels for 10 years. I started as a sales person in a clothing shop and ended up designing prints for fabrics. Because of my background in photography, I knew how to use Photoshop, which wasn´t that common during this time. After I returned to Finland, I started to make fabrics for Marimekko, together with the artist Paavo Halonen, the artist tells about her background.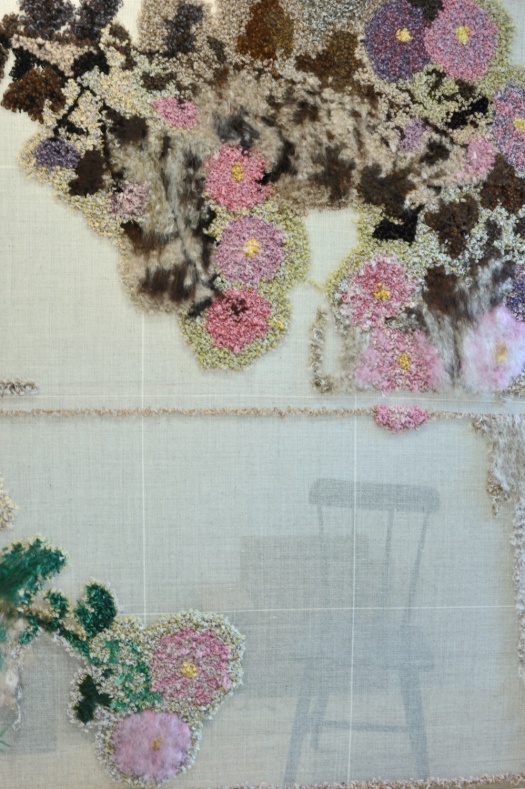 While designing patterns, Hanna-Kaisa felt she needed more professional skills, so she applied and got a place at the masters programme in textiles at the Aalto University. This spring she graduated with a doctorate in arts from the Department of Design at the Aalto University and her doctoral thesis, The Making of Inspiration – From Monet to Warhol and beyond (Aalto Arts Books, 2022), was published as a book.
Hanna-Kaisas process is largely based on inspiration and her process is driven by her source of inspiration. Besides her thesis, part of her doctoral studies was a series of exhibitions, where she delved deeper into the questions raised in her thesis. She focused on each subject for about a year and a half. Her working method is quite intuitive and dependent on the materials she is using. As an example Hanna-Kaisa was inspired by the iconic Liekki-rug (liekki = flame) by Akseli Gallen-Kallela and in the process the flames first became octopus tentacles and then snakes.
-In the end the snakes didn't leave me alone, I made snakes in every form and they appeared on textiles, ceramics and glass. Even my thesis has a snake on the cover.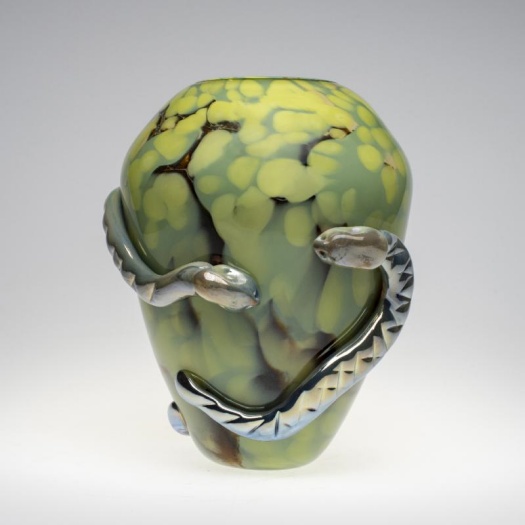 In her works she is pushing the limits of design. On a first glance her work often appears as design, but they are rarely objects made for everyday use. She has for example coloured silk textiles with dry pastels.
-The ideas are mad for a designer but quite tame within the visual arts. To make things by hand is important to me and in my work I'm trying to reinterpret traditional artisan techniques in a modern way, Hanna-Kaisa explains.
Collaboration is also important for the artist. While creating her works, Hanna-Kaisa has collaborated with glass blowers and potterers. She feels that in the creative process she's just one component among others.
-My own professionalism is growing when I work with others and I always learn something new. It's really inspiring to collaborate!
Her studio is also communal, even though each artist working in the space has their own separate artistic career. Besides Hanna-Kaisa the artists Elina Laitinen, Sonja Tolonen and Marie-Andrée Godin are working in the studio. The latter is also taking part in Konstrundan.
-We share our worries and compete over who gets to stroke Elina's dog, Hanna-Kaisa describes the team spirit.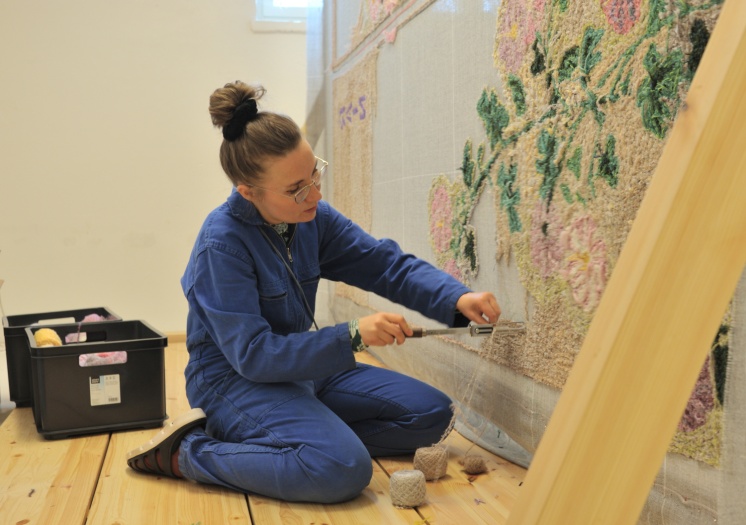 This year Hanna-Kaisa is busy with several projects and exhibitions in Finland and abroad. At the moment she's working on a pair of rugs inspired by the production of the japanese artist Ogata Korin (1658-1716). Korin is best known for his screen paintings that are registered as national treasures in Japan, but just like Hanna-Kaisa, Korin did a lot of other things, such as textiles, ceramics and lacquer work. A whole school is still following this master of empty space, but Hanna-Kaisa has made her own, soft interpretation in the form of a tufted and brushed open rug. In an exhibition held at Hvitträsk in the summer of 2020 Hanna-Kaisa studied the similarities between the golden age of Finnish art and japonism. The rug is a continuation of this process.
During Konstrundan, visitors can follow as Hanna-Kaisa works on a large-scale rug. Sketches and paintings will also be shown, as they are a huge part of the artists work:
-I study the subject over and over again through painting and drawing. Painting for me is like thinking without words.
Visitingpoint during Konstrundan 2022