Elina graduated as Master of Arts at the University of Lapland in 2004. Lithography and art philosophy at the University of Art and Design has also been part of her studies. She has also studied at the Free Art School in Helsinki.
Elina is a visual artist from Oulu and now she lives in the reindeer herding culture. Before her art studies she was interested in natural sciences and mathematics, but since she had a fondness for art, she wanted to test how far art would take her.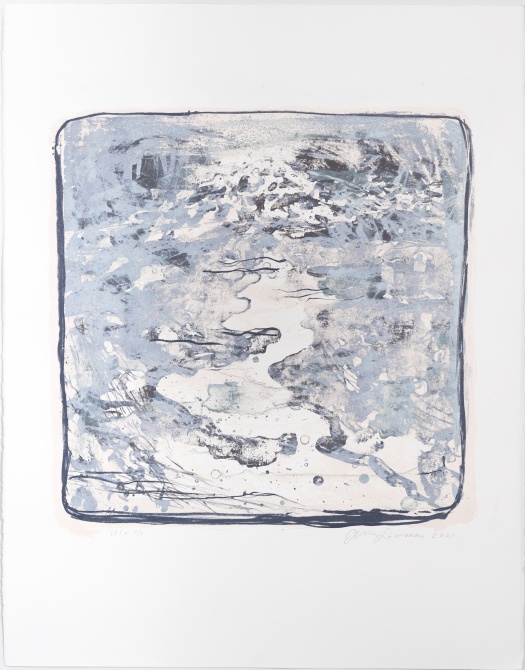 In Nuorgam Elina has her home in connection with her studio. There is a lithography press, with which she prints lithographic works from limestones. They give a very own impression that goes well with the painterly expression Elina works with. The technique is labor-intensive, challenging and in the past both posters and maps have been made in that way. Working with lithography usually takes place in joint workshops. Elina has a lot of experience of these, both from Helsinki and Paris. In the workshops, there is a good collaboration between the artists and Elina has done many collaborations with lithographic artists and had exhibitions both in Finland and abroad. For the last 10 years, she has been part of a summer gallery in Savonlinna. For Elina, it is important to meet the audience, then she sees her artworks in a different light.
Elina finds the themes for her artworks in the surrounding life and in the stories. The starting point is the northern nature and the way of life here. Observations of nature, as well as animals, perhaps mostly as a metaphor, often mirror people. Art is a way to communicate with the audience and process what is happening around. The viewers can identify with the feelings in the artworks and find their own experiences in them.
During the beginning of May, the works of art that are made will be shown at the Sámi Museum and Nature Center Siida in Inari church village. The solo exhibition's vernissage is held at the same time as the museum's major expansion is inaugurated and Elina is the first artist to exhibit in the new gallery space. The exhibition "Mu áiggis, du báikkis - In My Time, In Your Place" is open 1.6.22–17.1.23, also during Konstrundan. Big paintings and lithographic works are exhibited.
In addition, Elina's artwork is shown in a Finnish-French-Italian group exhibition on Sicily this year. Coronan has moved the exhibition two years already. Elina has had many exhibitions, both solo and in groups, from Japan to the Nordic countries. In residences she has been in Senegal, Paris and Norway.
Konstrundan is, according to Elina, a good opportunity to meet people. It is nice to get to know both the artist, the working space and the techniques. The extensive marketing is also a big advantage. Most often Elina goes from Nuorgam somewhere else to meet art friends - but now they can come to her. Elina's home and studio is just beside the main road, before the village itself.
After Konstrundan, Elina receives visitors according to agreement, in her work spaces and exhibition space, which is currently under construction.
Visitingpoint during Konstrundan 2022