Danelle Bergstrom, Grelsby, Finström
It is the first time Danelle Bergstrom opens her studio for visitors during Konstrundan.
Danelle's studio is located in surroundings that look as if taken straight from a painting. Lush trees and greenery frame the white buildings of the old hospital next to a glittering lake. It is peaceful and beautiful.
Danelle Berstrom may be a new name in Finland, but not in Australia. As an established artist in her native Australia, Danelle settled on Åland in 2018. Her first trip to Åland took place a couple of years earlier during an artist residency on the island of Källskär, Kökar. The residency inspired large oil paintings with magnificent sea motifs that were shown in the exhibition VÅGA at Önningebymuseet in the summer of 2019.
Danelle knew early that she wanted to be an artist. If you grow up in a home surrounded by books, art materials, music and in an environment that encourages creative thinking and curiosity, it easily happens, she says.
Danelle is busy this year. During the pandemic she has worked on several exhibitions; one on Åland at Galleri Skarpans this summer and one in Sydney in the autumn. Next year, a retrospective exhibition of Danelle's career will be held at Bathurst Regional Gallery in New South Wales, Australia.
As a portrait painter Danelle is presently working on official portraits of President Tarja Halonen and Åbo Akademis Ulrika Wolf-Knuts.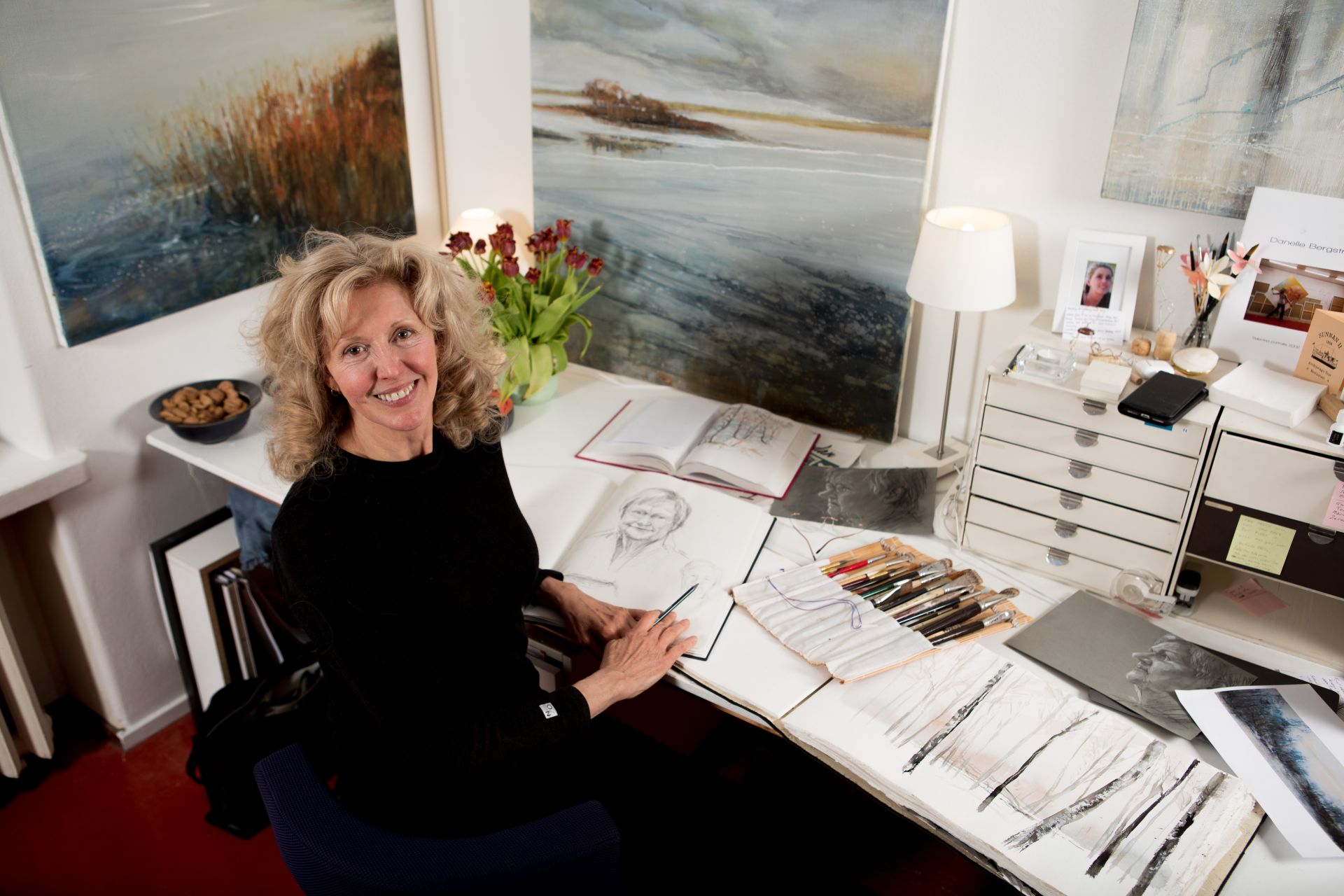 Danelle is grateful to have had the possibility to work with both portraits and landscapes. "They are both equally important to me. As a portrait painter, I have the privilege of painting many interesting personalities. They have been inspiring and enriching experiences for me personally. "
Nature is a great source of inspiration, Danelle continues. In nature, she finds metaphors to express her innermost feelings, thoughts, memories and experiences. Throughout the ages, writers, poets, musicians have turned to nature to describe pain, sorrow, love and, yes, an infinite number of other emotions, she says. Our relationship to nature is absolutely fundamental to our existence, says Danelle with emphasis. "I am passionate about the environment and the strong connection that exists between humans and nature. We have to take care of it and of each other. "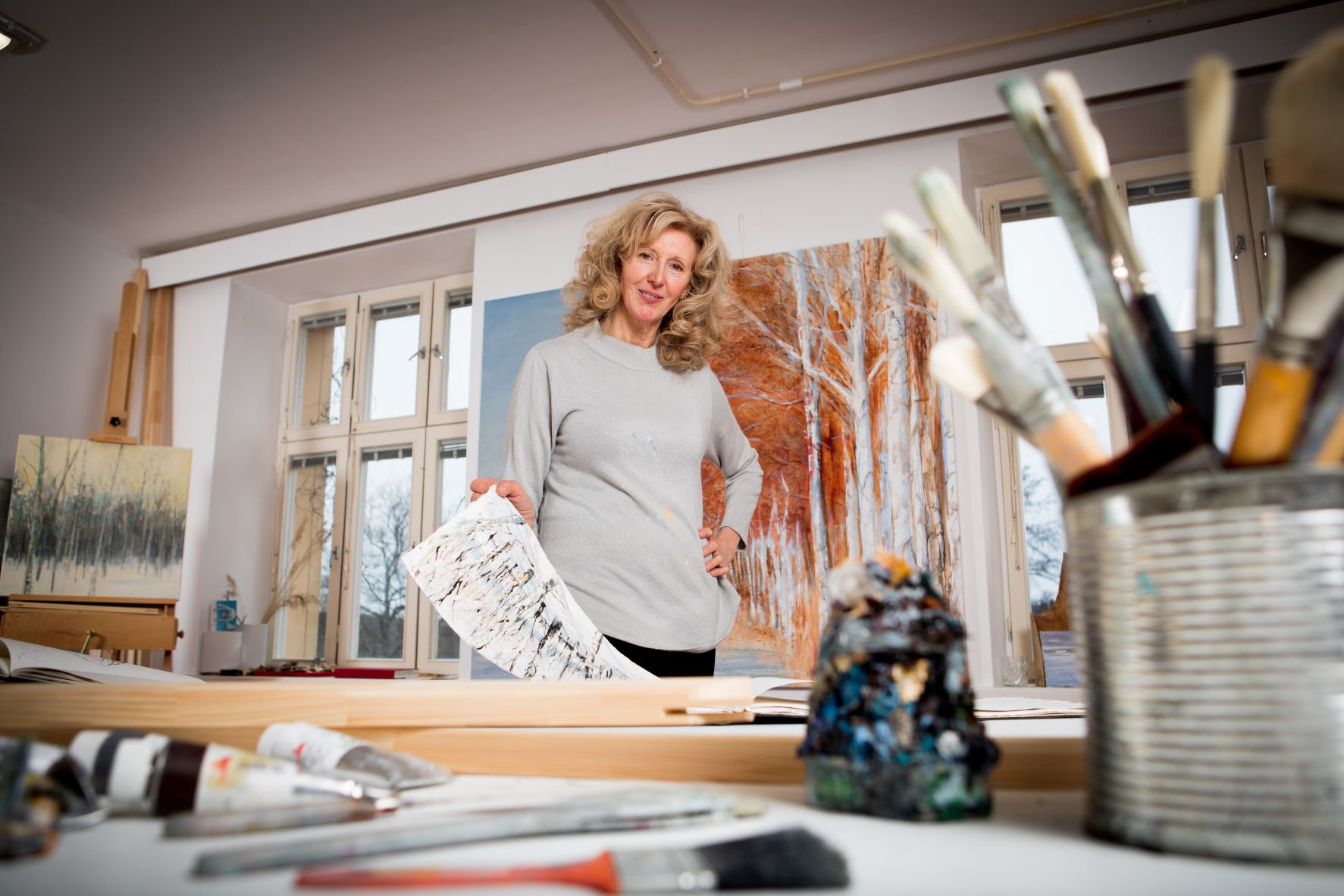 Danelle's next goal is to learn Swedish. She plans a break in her exhibition schedule to do so. She explains that despite her Swedish-sounding surname, she does not speak Swedish very well yet because her parents divorced when she was little and her father returned to Sweden.
"During my creative process, I tend to isolate myself. I paint day and night and usually several canvases at the same time, because the oil paint has to dry and I need time to think about the next step, "says Danelle.
She compares her painting process to a Danish pastry; many thin layers on top of each other. She says with a smile: "I am completely immersed in my creative process when I paint, I become obsessed and it can be frustrating, surprising, exhausting, wonderful and always exciting."
Danelle is looking forward to continuing to discover nature in the Nordic countries, the archipelago, and the seasonal changes so fundamentally different from Australia.
She hopes that there will be interest in her art in Finland. "I am very much looking forward to opening the doors to my studio and to welcoming and meeting new people during Konstrundan" says Danelle Bergstrom.
Text: Leila Cromwell-Morgan Lönnroth
Foto: Hülya Tokur-Ehres